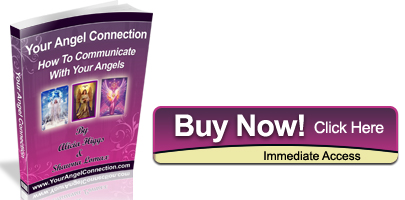 NEW E-BOOK

Would you like to find out who your guardian angels are? Wouldn't it be exciting to develop a relationship with your own angels and find out the answers to your most pressing questions?  Shawna & Alicia have written a simple and easy to follow practical guide (over 25 pages) guaranteeing a connection with your angels!   -  Available for immediate download after payment.

New e-book

by Shawna & Alicia

Please submit your questions in the notes section at checkout via  Paypal.

if you have any  questions you may contact us below.


Alicia and Shawna will "tune-in" to the angelic realm to receive messages from your own spiritual team to help assist you with any questions you may have.  The information we provide is directly from the angels and delivered with the utmost compassion.   

Keep in mind that no outcome is "etched in stone" as we all have free will to make our own  choices.  The information provided in your reading is based on the current energy of the situation which you can change at any time based on your decisions.  

We also use additional tools to help gleen additional information from the angels such as oracle cards and tarot cards and/or pendulums.

We also enjoy teaching others to develop their own relationship with the angels so please check out the various resources on this website or check out our Blogtalk radio show at www.blogtalkradio.com/angel-connection
Discover the names of your guides and angels--at least 2 names guaranteed                                                                      

Love Relationship Reading:  Ask 1 question about your romantic relationship.  Your question must be about one thing.

Mediumship Reading:  Ask 1 question about a deceased relative, friend or loved one who has passed on. Please provide first name and relationship to you i.e., (brother, mother, husband, wife, etc.)                                                                                

Don't need a full reading but need a quick yes/no answer.  This is the perfect solution. Ask 1 SPECIFIC question requiring a yes/no answer.                                                     

PLEASE--NO MULTIPLE QUESTIONS WITHIN 1 QUESTION ALLOWED.  SEE EXAMPLES:

If you need more than 1 question answered please see other email reading options

YES:

"Will I be offered the job I applied for?"
NO:

"Will Steve propose to me?  If so, when will he propose and do you see us moving out of state after we get married. And do you see us having a baby within the next year." 
We have the right to refuse service if we deem it appropriate.  A full refund will be given upon  notification.  Thank you for your cooperation.

New Live Chat Readings - Available Now

Schedule your own appointment.  See instructions below.

Please read prior to booking appointment: 

Payment will be due immediately via paypal.  

PLEASE READ THE FOLLOWING BEFORE PLACING YOUR ORDER


INTRODUCTORY SPECIAL:  $20.00

This reading is offered to anyone who has not had a prior reading with us (Alicia & Shawna).  Ask two questions for just $20.00.  Please leave your first name only and the first name(s) of any party(s) related to your question                                                                     

Personal Message from Kunak (Alicia's Spirit Guide):  $25.00

We are excited to offer a new reading opportunity designed just for you.  For $25.00 receive a personal message from Kunak (Alicia's candid and very humorous spirit guide) along with a free copy of our e-book "How to Communicate With Your Angels."  

Spirit Contact Reading: 80.00

Take advantage of our mediumship special and receive communication from loved ones, friends and family in the world of spirit.  If they are available to communicate you may ask for messages for up to two entities.  Please provide the first name and relationship to you.        

Full email reading:  $80.00

This reading will cover several different topics.  The full reading will entail:  What you need to know in your life at this time; romantic relationship; emotional state of mind and finances.  This is more of a general reading.  However, if you prefer, you may ask one specific question in relation to each topic indicated.  Please provide the first name only of any party(s) related to your questions.                                                    


Try our new live chat readings--get 5 extra minutes free